Great to see everyone at our June meeting!  We had 24 attendees for last Friday's meeting.
Business Discussed:
·         Happy birthday to Nick!
·         Welcome new Sudzers member Marcus! 
·         Bus Trip Preparations – tickets are still available! Visit http://sudzersbustrip2012.eventbrite.com/ to get your tickets ASAP!  The bus trip is this Saturday, June 9!  We still need to sell 4 tickets!
·         Thirsty Thursday – June 21 – Harry's Hofbrau, unless something more interesting comes up!
·         July Meeting – moved to July 13 due to the July 4th holiday.  Style will be IPA, so we should have a small turnout! 😉 
Next on the Agenda was the first annual British Beer Competition.  We had 7 entries!
The judging criteria (not BJCP) was based on :
·          4.5% alcohol by volume or less (low alcohol not low taste)
·          flavorful enough to be interesting
·          balanced enough for multiple pints
·          conducive to conversation
The winners, in reverse order were: 
7 – Santiago – spring brew day what if summer ale
6 – Bobby – Sam smith oatmeal stout clone
5 – Derek – pecan nut brown
4 – Raghu #1 – small English  brown ale
3 – Charles –  arrogant bastard style
2 – Raghu #2, English session ale
1 – Keith, ESB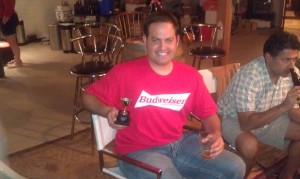 Congratulations Keith!  And thanks to all the brewers who participated.  Start thinking about what you can do next year!
Home brew presentation (not entered in the British Beer Cup):
Vern – IPA with toasted oatmeal and barley
Hope you all had a great time!  See you July 13 with tales of great beers from NHC in Seattle!