June 18 Thirsty Third Thursday meetup will be at Mission Creek
Brewing, 777 The Alameda, San Jose
July monthly meeting will be the club dark beer competition judging –
no other agenda. Meeting will be held Saturday, July 11, 4 pm at Tim
Topole's house. Email Tim <ttopole@yahoo.com> for address. Members can
enter one beer in the below 9% ABV category and one in the above 9%
ABV category. Bring your own chair and tasting glass, and dress for
sitting outside.
August meeting will tentatively be held at Steins. Date & time TBD.
A North Bay brewery bus trip is in the works for late July. Stay tuned
for details.
Gary announced that the MoreBeer summer 15% off sale is July 11. Club
members can shop beginning at 9 am.
In honor of the last Sudzers meeting at Nick's house, he was presented
with a one-of-a-kind commemorative tap handle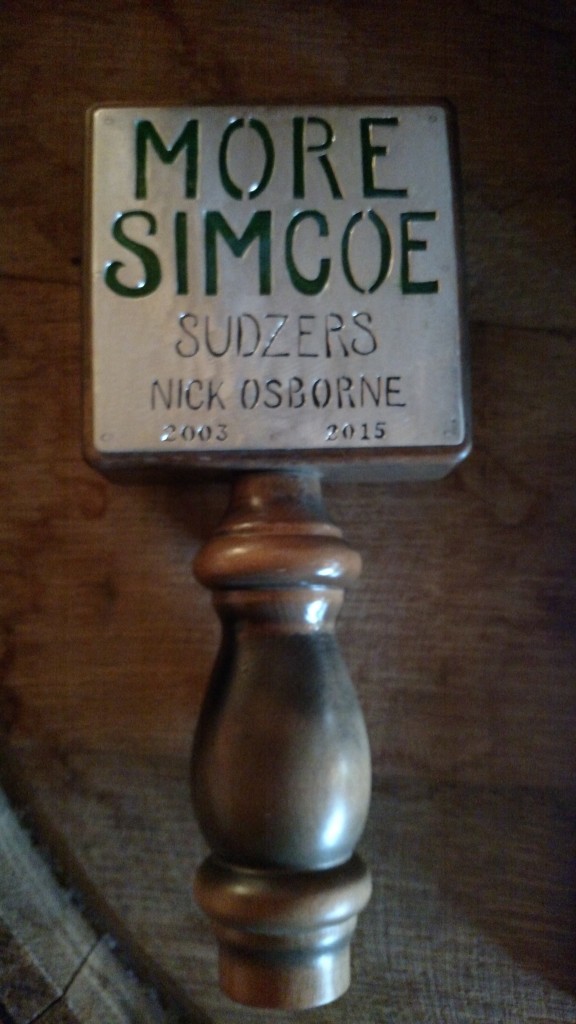 Thanks again to Nick for 12+ years of Sudzers memories!
Homebrew tasting: (*indicates a beer that will be served at National
Homebrewers Conference Club Night in San Diego)
*Jim W's Perfect Kolsch
Jared's Caucawatie Common
*Adam C's El Dorado Pale Ale
*Steve H & Derek H's Vanilla Coconut Porter
*Derek W's Kiss Me I'm Shitfaced Oak Aged Milk Stout
*Charles' Oaked Arrogant Bastard Clone
*Charles' Modern Times Blazing World Clone
*Derek W's Zombie The Elder DIPA
Tim's Muscat Love with muscat grape
*Derek W's 'O 'O Hawaiian Honey Mead
Mike C's Dark Matter Russian Imperial Stout (2014 club brew day)