On May 12, 2012, the Sudzers gathered at Santiago's house in Redwood City for the 8th Annual Spring Club Brew Day. Santiago had recently completed building a 10 gallon system into his patio, where luckily there had previously been plumbing and a natural gas hookup for laundry. But seriously, what's more important? Laundry, or a sweet homebrew setup?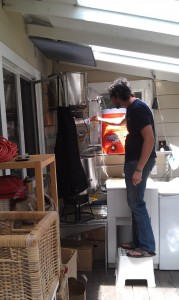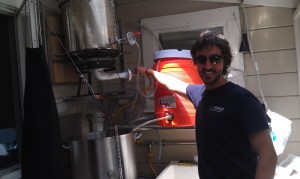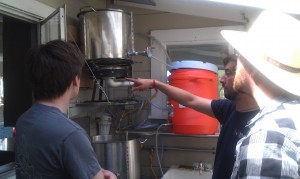 Santiago led the maiden brew on his new 10 gallon system with the recipe from What If Summer Ale from Radical Brewing:
Recipe (5 gallon base) :
Fermentables:
6.0 Lb  Maris Otter Pale Ale Malt
2.0 Lb Pilsener Malt
1.0 Lb Malted wheat
1.0 Lb piloncillo
Hops & other additions:
60 min Fuggles
5 min Goldings
5 min coriander
5 min candied ginger
In addition, former club president and "Master of the Vorlauf" Doug brought his system over to make 5 gallons of lovely saison.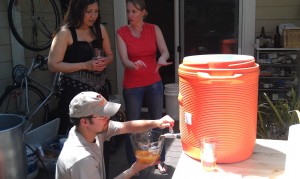 Santiago & Linda generously provided a lot of tasty food, including many delicious grilled meats.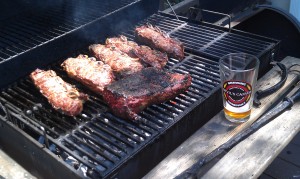 And generally, a good time was had by all.
Your club president and humble narrator was suffering from a bout of laryngitis that day, but, as always enjoyed seeing other people's brew setups, sharing some tasty brews and food, and enjoying good Sudzers company.
One other item of note from the 12th: Derek drove up to San Leandro pre-brew-in to pick up 5 gallon whiskey barrels for Tyler, Santiago, and himself from the full pallet that Adam had ordered from Balcones Distilling in Texas. Hopefully there will be many fine barrel aged brews to be sampled at future meetings – my 11.1% ABV, 107 IBU Go Go Barleywine has been in the barrel for just over two weeks now. I'm anticipating about a three month aging, which, because of the increased surface contact, is the equivalent of over a year's aging in a 55 gallon barrel.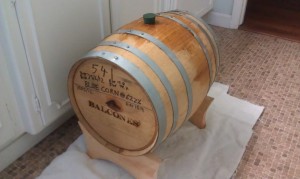 Cheers!