On Tuesday, January 1 at 10 am, a few of us will be getting together at Slow Hand BBQ in Pleasant Hill to enjoy some outstanding BBQ and to create our own smoked malt, using Slow Hand's smokers to smoke the grains along with the barbecue meats. The intent will be to produce homebrewed smoked beers to pair with Slow Hand BBQ at an event during SF Beer Week. If you're interested in joining in the festivities and lending a hand with the smoking on Tuesday, please email Derek at derek dot wolfgram at gmail dot com. If you can't come, but might be interested in creating a brew, please also let Derek know that. Read on to learn more…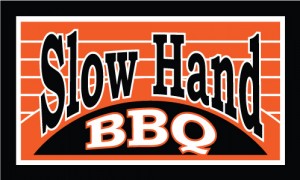 Pete Slosberg introduces the concept:
"One of my good friends, Dan Frengs, used to be a beer sales guy for many years and then decided on a career change and entered the BBQ business.  I am a big proponent of Dan's BBQ and I unequivocally can say that his BBQ is the best on the west coast.  He started out with a mobile smoker going to events, but now has a permanent restaurant in Pleasant Hill, next to Concord, called Slow Hand BBQ.  I had a craving so I was there this week.  We chatted about things including SF Beer Week for this coming February.  He would love to do something and get people exposed to his goodies. I suggested that he do the obvious, pairing BBQ with smoked beer, but with a twist.  Take smoked beer to the next level.  With his smoker and meats, create special smoked malts the reflect each of his meats, e.g. smoke some malt with the wood smoke, but also the aroma of the smoking BBQ ribs, then another for Brisket, then……. He would then have an event pairing his BBQ with each of the "special smoked" beers.
When Pete's suggestion went out to the Sudzers, Derek, Chris R., and Tyler all expressed interested in producing beers using the barbecue smoked malts. Chris R. also contributed a significant amount of knowledge of smokers and how to produce the best results in smoking our own malts, even citing Modernist Cuisine in determining how to get the maximum impact based on temperature, wood choice, timing, and technique.
We're all looking forward to tasting Slow Hand's barbecue, as well as the accompanying smoked malts we will produce, Derek has tentatively recommended several styles for brewing to pair with the meats, each of which may have different proportions of smoked malts and other specialty grains (some of which we may also create by oven-roasting some of the smoked malts):
Brisket Smoked Stout or Porter
St. Louis Ribs Smoked Scotch Ale
Baby Back Ribs Smoked Brown Ale or English Mild
Pulled Pork Smoked Altbier, Amber Ale or California Common
Stay tuned for more information after phase 1 is completed on Tuesday. Happy New Year indeed!